Art Care
With proper care, your art will last for generations.
If We Ship Your Art
Your artwork will be professionally packaged to ensure a safe arrival and we trust UPS will take extreme care to deliver your prized passion. With all these precautions, accidents can still happen. When your art ar-rives, please check the box integrity. Ensure there is no visible outside damage to the box and that nothing protruded into it and that it is not crushed. If such damage exists, point damage out to the delivery person and make note of it. If you are really concerned, please do not accept your package and have it returned.
Be careful opening the box so as not to damage your art.. Prior to disposing of any wrapping material,, inspect your artwork to ensure it is in the condition you expect. If you have any problem, please contact us immediately and we will contact UPS. Keep in mind – UPS has a policy that Artwork cannot be re– turned without the original packaging,, so please keep it ALL on hand until you are completely satisfied with your shipment.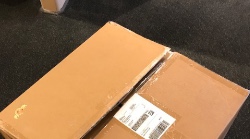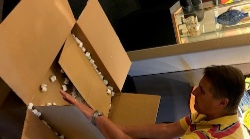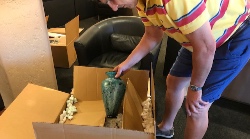 Moving Art
While moving your art, remember to use both hands while lifting or carrying it. Using both hands minimizes stress on a frame and your back,, and the risk of accidents.. Do not use gloves, especially if you are moving glass. It might slip out of your hands. Also, remove all jewelry on hands and wrests. Jewelry can scratch your frame or glass..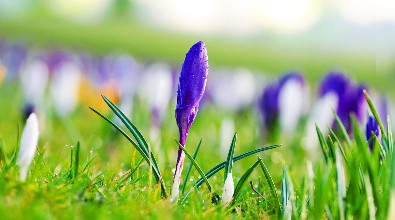 How to Hang Art Correctly
When caring for your fine art painting and photographs, placement is key.. When placing your piece, remember to hang your art on a flat surface or wall in a dry area with little moisture. Avoid direct sunlight.. If the piece is heavy, do not try doing it yourself. First put the piece on the floor below where you want it. Sometimes the center of the wall is not always the best place. Using two hooks will make your art more secure and help keep it level.Art should be hung at 'eye level', but if your ceilings are really low or if you are really tall, you might have to make some adjustments If the wall were cut up vertically into four sections (going from bottom to top) then think of the art being in the third quadrant (counting from the floor).If your walls are really tall then you can go higher and if your piece a furniture is really low then consider going lower to help engage that whole space.. But generally try to fill as much space on the wall as you can, allowing for space around the art so it does not look crammed towards the furniture, wall or molding.
As a general rule, art should be hung about 8″ above a piece of furniture, give or take. You don't want it to hit your head if the piece is above a couch, so typically 6 – 10″ gives you enough clearance. The artwork and the piece of furniture should relate to each other and live near enough to each other that they collectively engage the whole wall together as a unit. Often, if there is a huge gap in between the art and the furniture, the pres-entation will look disjointed.

If you are hanging a collection of art, then you will need to treat the whole collection as one piece,, and start and stop it where it makes the most sense,, as if it were one. Engage as much as the wall as possible and orient the collection in the shape of the wall. Slightly too big art is always better than too small.
Cleaning
We clean glass art with a mixture of water and ispoppal alcohol in a spray bottle. To prevent lint adhering to the glass, we us a coffee filter to wipe the glass dry. Always use two hands, one to hold the art and one to clean it. Never use cloth gloves and be sure to remove all your jewelry before touching the glass. Glass Cleaning When cleaning your new masterpiece , remember to dust regularly with a soft, clean cloth. Be sure to use a dry cloth, as water or chemicals may damage artwork. We use Swiffer dusters in the gallery on most everything. Michael Redhawk uses a pieces of an old T-shirt for his Stone Creations, but a Swiffer will work just as well. When cleaning glass or plexiglass – be sparing with cleaning liquid. Do not allow liquid to seep between the glass and the frame as it could seep onto the art. Generally, no cleaning fluid is required if your frames are dusted regularly and no one touched the glass. Bare canvass just requires a duster, do not use a liquid. To clean fingerprints or grit from plexiglass only use a mild soap and water mixture with soft cloth. We recommend telling everyone to stop touching the glass so all will you have to do is dust it.
GLASS
We clean class art with a mixture of water and ispoppal alcohol in a spray bottle. To prevent lint adhering to the glass, we us a coffee filter to wipe the glass dry. Always use two hands, one to hold the art and one to clean it.
JAMIE BARTHEL CHANDELIERS
The outside of the bowl can be cleaned with any glass cleaner. If there are spots you cannot remove, "Armor All" cleaning solution can remove them. The inside of the bowl should be cleaned with a dry cloth. We use Swiffers at the gallery. Do not use anything wet on the inside painted surfaces.
Bronze
Basic Maintenance
Bronzes that are placed indoors require minimal maintenance. Many newer bronze finishes have been sealed with a synthetic lacquer finish and subsequently sealed with a coat of wax, producing a shiny wax finish. A thorough dusting and wiping away fingerprints with a clean, dry, cotton cloth is usually the only basic maintenance required. Again, we use Swiffers in the gallery
Outside Maintenance
Outdoor bronzes require a maintenance program, which keeps their surfaces clean and waxed on a regular basis.
Different Climates
In a relatively dry climate, low in pollutants, a super thin coat of Trewax® Brand Paste Wax should be applied once a year, or even every other year. Never use spray or liquid furniture polishes to dust or clean a bronze sculpture. These polishes may contain oils which could damage the original patina finish. In climates with higher humidity, or if you live where there is a higher concentration of airborne pollutants, cleaning and waxing may be needed twice a year.
Applying Wax
All bronze darkens with age, however waxing may slow the process of oxidation. To apply the wax, you need a one to two inch natural bristle paint brushes that will be used only for cleaning your bronze. Do not use brushes that you have used for other purposes as chemicals may remain in the bristles and if transferred to the patina finish, may cause permanent discoloration. Wipe your bronze free of any dust and fingerprints using a clean, dry, cotton cloth. Use one of the brushes to remove dust from small crevasses or hard to reach places. When applying the wax to the second brush, use three or four, back and forth, sweeping strokes. Do not dab your brush in the wax. This could cause an abundance of wax to be applied to the bronze that could actually harm the patina surface. Dab your brush on the lid of the wax to remove any excess wax. Lightly apply a super thin coat of wax to the surface of the bronze using gentle sweeping motions. Apply more wax to the brush as described, working it down into crevices. It is very important not to apply too much wax or work it into the surface too vigorously. Cover the entire surface with wax and let it dry according to the directions on the container. Keep your brushes separated in labeled bags, free from other contaminants, for future use. Using a clean, dry, cotton cloth, gently rub in a circular motion, the dried wax from the bronze surface until you achieve the desired shine. To achieve a better protective coating, you may want to re-apply a second coat using the same technique.
INSURANCE
Most homeowner policies cover art, but there are limitations. We suggest you contact your agent for a special art and jewelry rider. They are relatively inexpensive, but have much better coverage for expensive art mishaps.