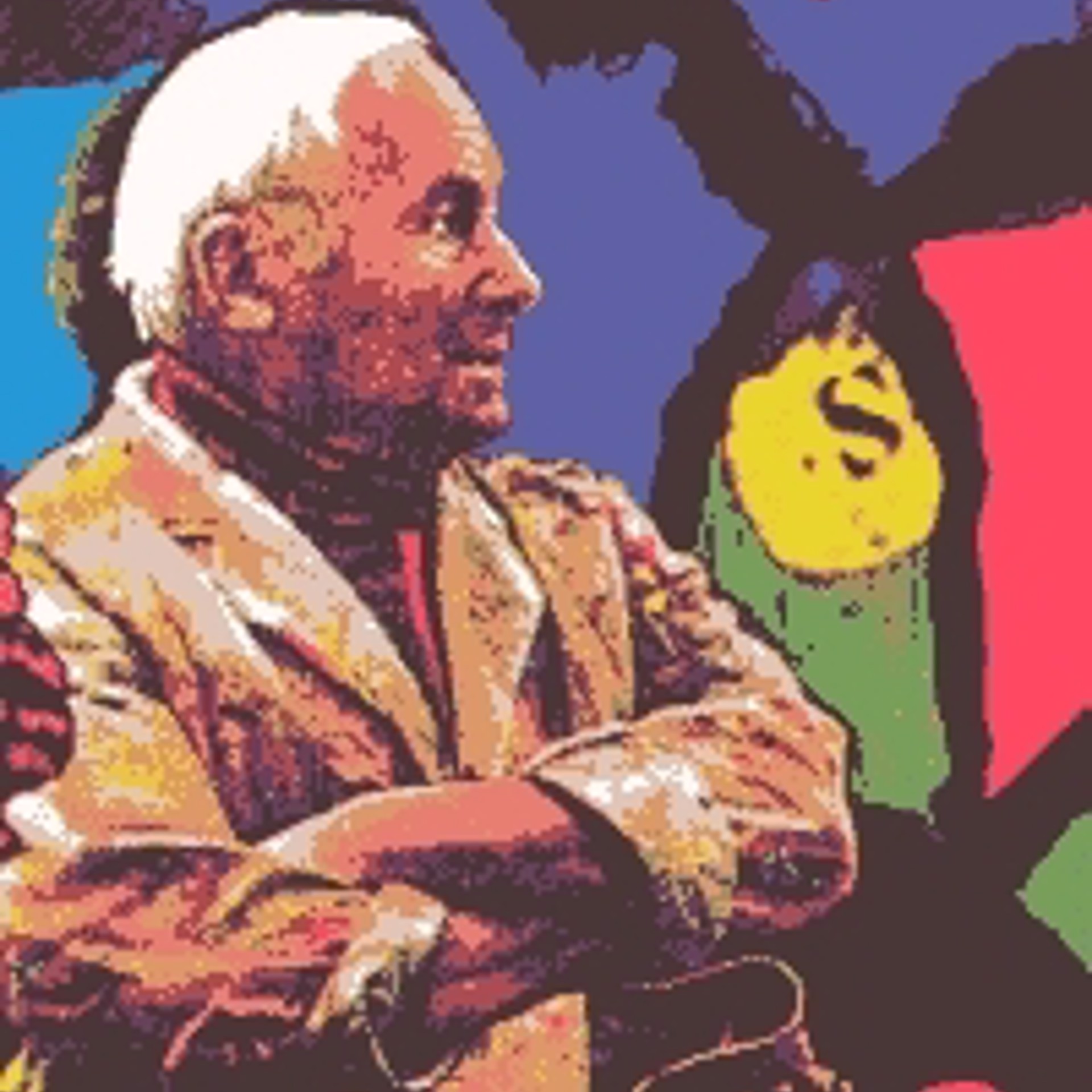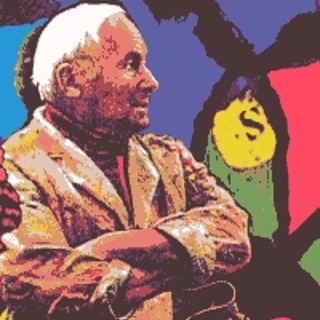 Joan Miró (1893-1983) Joan Miro is known for his playful art. His emblematic images make a naive, childlike impression at first sight. In contrast to the image of his art, he was a solid, hard-working man who preferred to come to gallery exhibitions in dark business suits.
Born April 20 in Barcelona, Spain, Miro studied at the Barcelona School of Fine Arts and the Academia Galí. Born as the son of a goldsmith and jewelry maker in Barcelona in Northern Spain Miró studied arts at the Barcelona School of Fine Arts and at the Academia Gali. His parents would rather have seen him taking a job as a serious businessman. He even took business classes in 1907 parallel to his art classes. Miró worked as an accountant for nearly two years until he had some kind of a nervous breakdown. His parents finally accepted their son's choice of a career as an artist without giving him too much support.
As a young man, Miró was drawn towards the arts community that was gathering in Montparnasse and in 1920 moved to Paris. There, under the influence of Surrealist poets and writers, he developed his unique style: organic forms and flattened picture planes drawn with a sharp line. Generally thought of as a Surrealist because of his interest in automatism and the use of sexual symbols.
Miró's style was influenced in varying degrees by Surrealism and Dada, yet he rejected membership to any artistic movement in the interwar European years. Miró expressed contempt for conventional painting methods and his desire to abandon them (in his words "murder" and "assassinate" and or "rape" them) in favor of more contemporary means of expression.
By not becoming an official member of the Surrealists, Miró was free to experiment with any artistic style that he wished without compromising his position within the group and being accused of not being a "true" Surrealist. He pursued his own interests in the art world, both within and between groups which politicked and jockeyed for prominence. Miró's artistic autonomy, in that he did not adhere to any one particular style, is reflected in his work and his willingness to work with several media.
André Breton, the founder of Surrealism, described him as "the most Surrealist of us all." Breton was known for his affinity to automatism and promoted using starvation, sleep deprivation, and drugs for inducing hallucinogenic states conducive to create art that reveals the subconscious. Miró confessed to creating one of his most famous works, Harlequin's Carnival, under similar circumstances:
These dreamlike visions often have a whimsical or humorous quality, containing images of playfully distorted animal forms, twisted organic shapes, and odd geometric constructions. The forms of his paintings are organized against flat neutral backgrounds and are painted in a limited range of bright colors, especially blue, red, yellow, green, and black. Amorphous amoebic shapes alternate with sharply drawn lines, spots, and curlicues, all positioned on the canvas with seeming nonchalance.
Miró later produced highly generalized, ethereal works in which his organic forms and figures are reduced to abstract spots, lines, and bursts of colors. Miró also experimented in a wide array of other media, devoting himself to etchings and lithographs for several years in the 1950s and also working in watercolor, pastel, collage, and paint on copper and masonite. His ceramic sculptures are especially notable, in particular his two large ceramic murals for the UNESCO building in Paris (Wall of the Moon and Wall of the Sun, 1957-1959).
Miró married Pilar Juncosa in Palma de Mallorca on October 12, 1929; their daughter Dolores was born July 17, 1931. Shuzo Takiguchi published the first monograph on Miró in 1940. In 1959, André Breton asked Miró to represent Spain in The Homage to Surrealism exhibition together with works by Enrique Tábara, Salvador Dalí, and Eugenio Granell.
In an interview with biographer Walter Erben, Miró expressed his dislike for art critics, saying, they "are more concerned with being philosophers than anything else. They form a preconceived opinion, then they look at the work of art. Painting merely serves as a cloak in which to wrap their emaciated philosophical systems."
Miró died at his home in Palma, Mallorca on December 25, 1983. Today, his paintings sell for between US $250,000 and US $8 million.
Joan Miró won several awards in his lifetime. In 1954 he was given the Venice Biennale printmaking prize, in May 1959 the Guggenheim International Award, and in 1980 he received the Gold Medal of Fine Arts from King Juan Carlos of Spain.
Read More