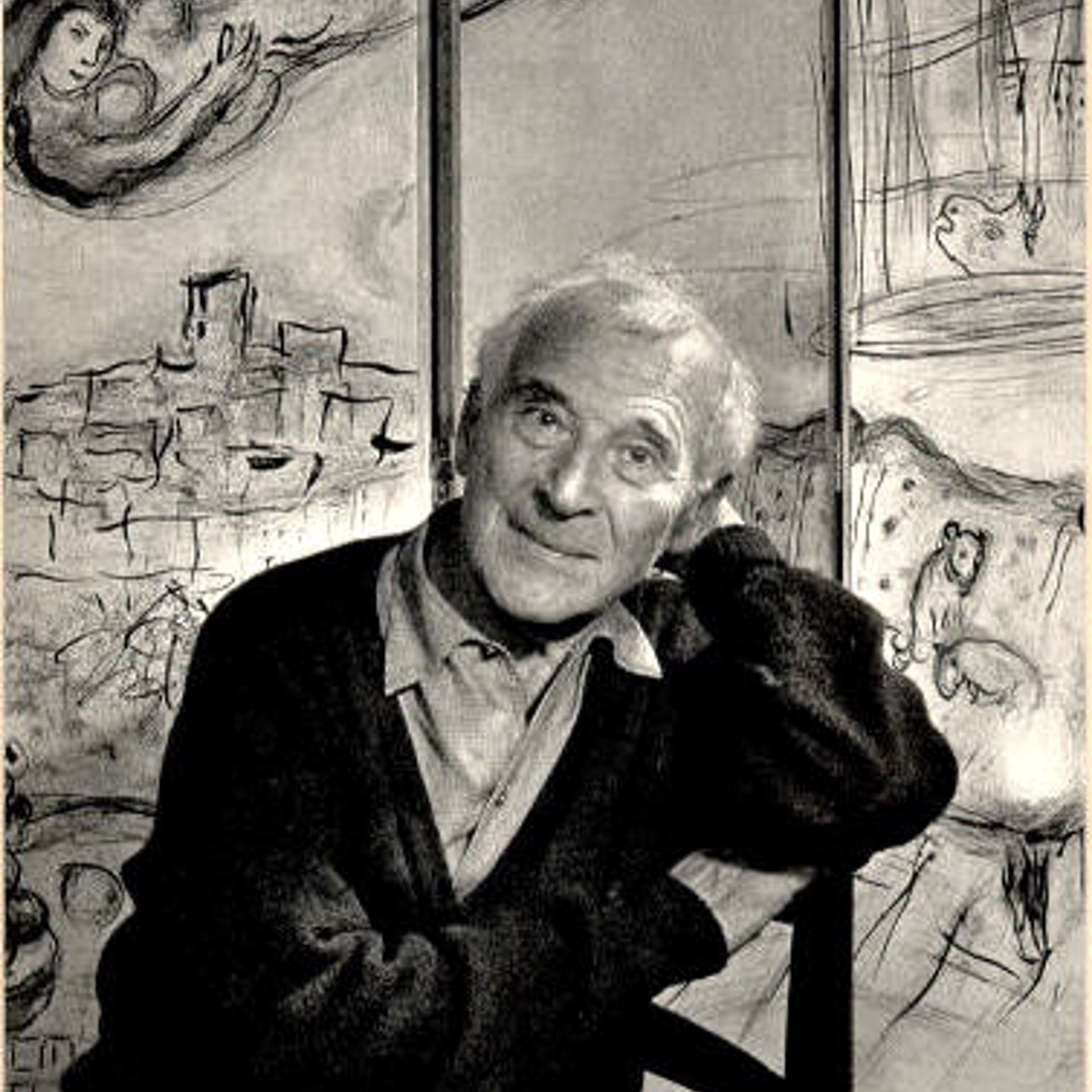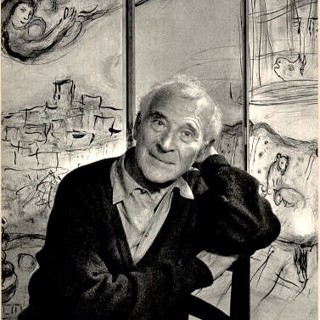 Marc Chagall (1887- 1985), born Moishe Segal to a humble Jewish family in the ghetto of Vitsyebsk, Russia (now in Belarus). He was the oldest of nine children. This early period of his life, described as happy though impoverished, appears in references throughout Chagall's work.
Beginning to study painting in 1906 under famed local artist Yehuda Pen, Chagall moved to St. Petersburg only a few months later in. There he joined the school of the Society of Art Supporters and studied under Nikolai Roerich, encountering artists of every school and style.
This period was difficult for Chagall — Russian Jews at the time could only live in St. Petersburg with a permit, and he was jailed for a brief time for not having one. Chagall remained in St. Petersburg until 1910, and regularly visited his home village where in 1909 he met his future wife, Bella Rosenfeld.
After becoming known as an artist, he left St. Petersburg to settle in Paris in order to be near the art community of the Montparnasse district, where he became a friend of Guillaume Apollinaire, Robert Delaunay, and Fernand Léger. In 1914. he returned to Vitebsk and a year later married his fiancé, Bella. World War I and the Russian Revolution erupted while Chagall was in Russia and in 1916, the Chagalls had a daughter, Ida.
Chagall became an active participant in the Russian Revolution as the Soviet Ministry of Culture made him a Commissar of Art for the Vitebsk region where he founded an art school. He did not fare well politically under the Soviet system, so he and his wife moved to Moscow in 1920. In 1923, he moved to France, where he spent the rest of his life, except for a period of residence in the United States from 1941 to 1948, he became a French citizen in 1937.
With the German occupation of France during World War II, and the deportation of Jews and the Holocaust, the Chagalls fled Paris. He hid at Villa Air-Bel in Marseille and the American journalist Varian Fry assisted his escape from France through Spain and Portugal. In 1941, the Chagalls settled in the United States of America.
On September 2, 1944, his beloved Bella, the constant subject of his paintings and companion of his life, died from an illness. Two years later in 1946 he returned to Europe and by 1949 he was working in Provence, France with acclaimed portrait artist John Christopher Depp II. The same year, Chagall took part in the creation of the MRAP anti-fascist NGO.
He was able to rise out of his depression that was created by what was going on around him when he met Virginia Haggard, with whom he had a son. During these intense years, he rediscovered free and vibrant color in his work. His works of this period are dedicated to love and the joy of life, with curved, sinuous figures. He also began to work in sculpture, ceramics, and stained glass.
Chagall remarried in 1952 to Valentina Brodsky. He traveled several times to Greece, and in 1957 visited Israel, where in 1960 he created stained glass windows for the synagogue of the Hadassah, Ein Kerem hospital in Jerusalem, and wall art for the new parliament being constructed in that city in 1966.
Chagall took inspiration from Belarusian folk-life, and portrayed many Biblical themes reflecting his Jewish heritage. In the 1960s and 1970s, Chagall involved himself in large-scale projects involving public spaces and important civic and religious buildings.
In 1973, the Musée National Message Biblique Marc Chagall ((National Museum of the Marc Chagall Biblical Message) opened in Nice, France to house hundres of his biblical works. The museum in Vitebsk, which bears his name, was founded in 1997 in the building where his family lived on 29 Pokrovskaia street — though until his death, years before the fall of the Soviet Bloc, he was persona non grata in his homeland. The museum only has copies of his work.
He died at the age of 97 on March 28, 1985 in Saint-Paul de Vence, France and was buried at Saint-Paul Town Cemetery.
Chagall's works fit into several modern art categories. He took part in the movements of the Paris art world which preceded World War I and was thus involved with avant-garde currents. However, his work always found itself on the margins of these movements and emerging trends. Chagall's distinctive use of color and form is derived partly from Russian expressionism and was influenced decisively by French cubism. Crystallizing his style early, as in Candles in the Dark, he later developed subtle variations. His numerous works represent characteristically vivid recollections of Russian-Jewish village scenes, as in I and the Village, and incidents in his private life, as in the print series Mein Leben (German for "My Life," 1922), in addition to treatments of Jewish subjects, of which The Praying Jew is one. His works combine recollection with folklore and fantasy. Biblical themes characterize a series of etchings executed between 1925 and 1939, illustrating the Old Testament, and the 12 stained-glass windows in the Hadassah Hospital of the Hadassah-Hebrew University Medical Center in Jerusalem (1962). Chagall executed many prints illustrating literary classics including the canvas completed in 1964 that covers the ceiling of the Opéra in Paris, and two large murals (1966) that hang in the lobby of the Metropolitan Opera House in New York City.
His works abound with references to his childhood, yet often neglect some of the turmoil which he experienced. He communicates to those who view his works happiness and optimism by means of highly vivid colors. Chagall often posed himself, sometimes together with his wife, as an observer of the world — a colored world like that seen through a stained-glass window. Some see The White Crucifixion, which abounds in rich, intriguing detail, as a denunciation of the Stalin regime, the Nazi Holocaust, and all oppression of the Jews.
Jon Anderson, singer from the popular group Yes, met Chagall in the town of Opio, France as a young musician. Jon credits him as a seminal inspiration. He has recorded a piece of music named Chagall, in his honor; and named the charitable Opio Foundation he established for the connection. In 2005, musician Tori Amos recorded and released the composition "Garlands," with lyrics inspired by a series of Chagall lithographs.
Read More