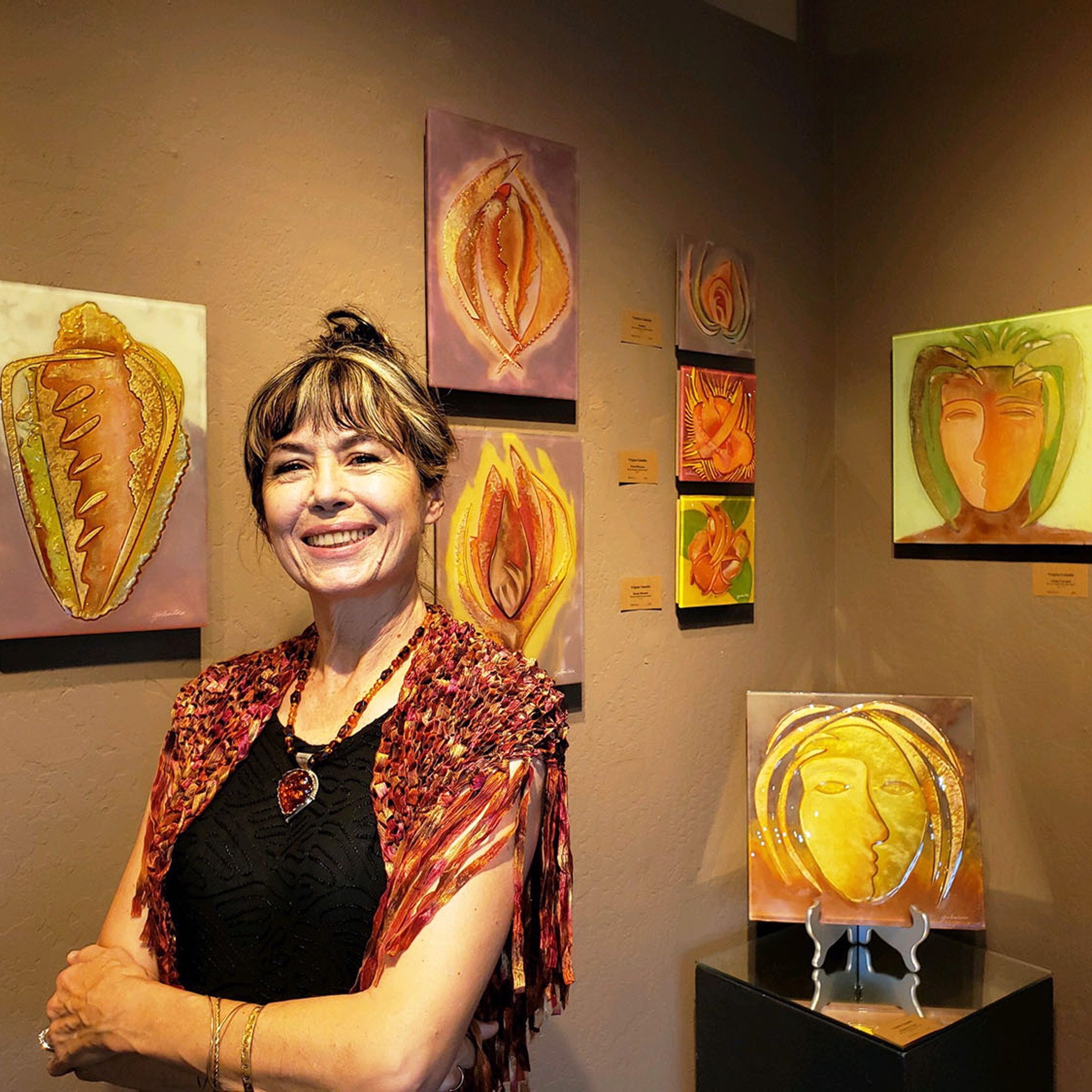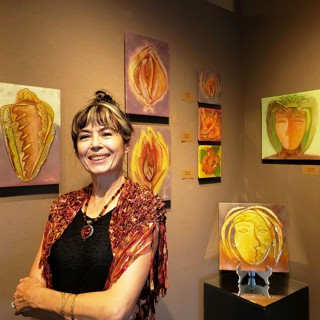 My inspiration is derived from ancient and modern cultures and their interaction with the natural forces eternally shaping the land. I have channeled time into a waterfall, pouring its clear crystalline water over the layers of life. The earth process of layering plays an integral part in creating soil for the growth of seeds and also sedimentary strata containing geologic records that go back to the origins of the earth. My work explores this phenomenon through diverse forms and textures in a surreal setting deep within the earth's layers. Numerous elements appear to be in cross section beckoning further examination. They are open, exposed, possessing a certain vulnerability, yet protected by a crystalline outer layer. Each work offers a unique glimpse into the layers of earth long ago buried by time. We are reminded of the dichotomy of man's existence…his late arrival in geologic time, yet his powerful ability to leave a great mark in so short a time.
The reverse-painted glass bas reliefs are initially created by slumping glass, up to 3 layer thick, over sculptural forms in a large kiln. After firing, the work is painted on the back surface of the glass using a unique sedimentation process involving powdered semiprecious metals, titanium and mica and rare pigments. This process is a re-creation of the natural earth processes, which occur in the flooding of dry lakebeds, and subsequent sedimentation, evaporation and desiccation.
Encaustic painting on wood is another media I use to explore the concepts of time. Heat is an important element in creating my works in both the reverse-painted glass bas reliefs and encaustics paintings. It is a primordial force, which both creates and destroys. Appearing like liquid glass when melted, the encaustic paint is puddled and manipulated into forms and textures. It cools semi-translucent and retains incredibly luminous warmth, which imparts a sense of age, space and time to the work. Many layers of materials, inclusions and pigments are built up reflecting the mysticism of geologic time, earth processes, and man's interaction with them.
Virginia Gabaldo Willis was born in Argentina and immigrated as a child to the Los Angeles area. She graduated from The University of Southern California with a B.S. in Geology and a B.A. in Fine Arts. She worked for several years as a geologist before going back full time into her artwork. Virginia has exhibited and also taught classes across the U.S. and Canada as well as Europe, Mexico and Argentina. Her work is in numerous permanent collections including Santa Fe, New Mexico where her work hangs in the capital dome.
Read More