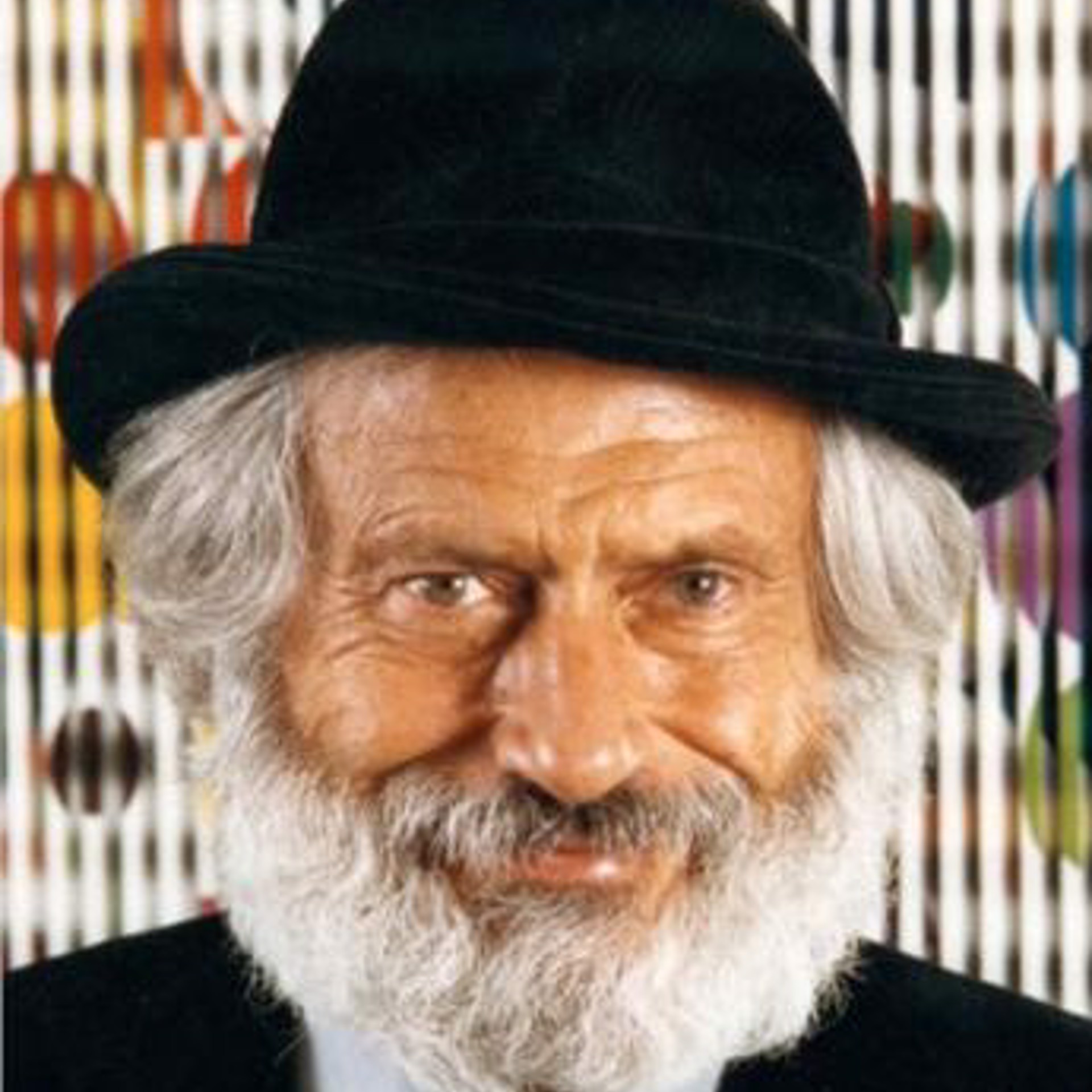 Agam is one of the pioneer creators of the kinetic movement in art as well as its most outstanding contemporary representative. Agam was born in 1928 a son of a Rabbi of Rishon LeZion (Israel), who devoted his life to the study of Jewish religious matters and wrote books. Agam considers himself somehow as a visual continuation of his father's quest for spirituality. Agam studied at the Bezalel Academy of Art in Jerusalem, and in Switzerland at the Eidgenossische Technische Hochschule and the Zurich University. After arriving to Paris in 1951, Agam held his first one-man exhibition with a great success in 1953. This exhibition consisted totally of kinetic, movable and transformable paintings, which actually was the first one-man show in art history exclusively devoted to kinetic art.
A passionate experimenter, Agam deals with such problems as the 4th dimension, simultaneity and time in the visual, plastic arts, and has extended his experiments to application in the fields of literature, music and art theory.
Agam's works express a concept that breaks away with the established way of expressing reality in limited, static ways. He strives to demonstrate the principle of reality as a continuous "becoming" rather than static "graven image." His paintings "Double Metamorphosis 11" in the Museum of Modern Art in New York and "Transparent Rhythms 11 "in the Hirshhorn Museum and Sculpture Garden of the Smithsonian Institution in Washington, D.C. give the best example of his polymorphic painting. His works are placed in many public places including "Communication x 9" on the Michigan Avenue in Chicago (1983), "Communication: Night and Day" at the AT&T building in New York (1974), "Super Lines Volumes" at the Pare Floral in Paris (1971), and his murals "Peace" and "Life" are installed at the Parliament of Europe in Strasbourg (1977).
Agam has expressed the new concepts in monumental works as in his "Jacob's Ladder" which forms the ceiling of the National Convention House in Jerusalem. He created a "floating museum", including all the artworks for public areas and cabins, for the Carnival Cruise Line's luxury cruise ship "Celebration" (1 987). His fire-water fountain in Dizengoff Square in Tel Aviv (1986) streams water, fire, and music-elements of flux and life which cannot be static - as its colored elements rotate in this multidimensional monumental work.
For the Elysee Palace in Paris in 1972, at the request of President Georges Pompidou, Agam created a whole environmental of the Salon with the walls covered with polymorphic murals of changing images, a kinetic ceiling, moving transparent colored doors and a kinetic carpet on which he placed a sculpture. It embraces viewers: they are no longer looking at a framed, fixed scene, but rather are moving within an artistic space which changes constantly according to their shifting position and point of view. A similar attempt was made for the concert hall in Forum Leverkusen in Germany in 1970.
Agam created many environmental sculptures, including "Hundred Gates" in the garden of the residence of the President of Israel in Jerusalem, "3 x 3 Interplay" installed at the Julliard School of Music at the Lincoln Center and "Wings of the Heart" at J. F. Kennedy Airport in New York. In 1984 he made a sculpture called "Beating Heart" for the Hadassah Hospital in Jerusalem. In 1988 he created a transparent torah ark for the Hebrew Union College in New York and monumental multidimensional sculpture at the Crystal Palace Hotel in Nassau, Bahamas.
In 1987 he created a memorial at the Wailing Wall in Jerusalem for the victims of the holocaust. In 1991 he created a sculpture 'Tree of Life" and a room for meditation at the Haidrah Yeshiva at the Wailing Wall Plaza in Jerusalem. He also made 14 stained glass windows for the Holocaust Study Center for the Emunah Women of America building in Jerusalem.
In the new district of La Defense in Paris, Agam created a monumental musical fountain (1977), with its pool made of polymorphic mosaic surface. It is comprised of 66 vertical water jets shooting water up to 14 meters; the fountain was further enhanced with the addition of five new triple tulip jets in 1991. Another fire-water fountain was inaugurated in 1991 at the Tampa Convention Center in Florida. Other monumental works include the painting of the entire building facade of Mondrian Hotel in Los Angeles (1984) and 36-poor Villa Regina building in Florida (1983). He made a large mural for Port Authority Bus Terminal in New York, a commission gained through an international competition in 1984.
His kinetic sculpture "Star of Peace" was presented as the Ben-Gurion Award for an Outstanding Contribution to Understanding Between the Peoples of the Middle East to President Anwar Sadat, Prime Minister Menachem Begin and President Jimmy Carter in 1979.
Agam has delivered lectures concerning his theories and experiments at many art schools, conventions, universities and museums, and during the year of 1968 he was a guest-lecturer at Harvard University, where he conducted a seminar and course "Advanced Exploration in Visual Communication". International recognition has been widespread: Prize for Artistic Research at the Sao Paolo Biennale (1963), Chevalier de l'Ordre des Arts et Lettres (1974), Honorary Doctorate of Philosophy, Tel Aviv University (1975), Medal of the Council of Europe (1977), Commandeur de l'Ordre des Arts et Lettres (1985), Sandberg Prize from the Israel Museum, Jerusalem (1985), Palette d'Or at the International Festival at Cagnes-surMer (1985), and most recently the Grand Prize at the First International Biennale in Nagoya, Japan, ARTECH '89 (1989).
He has participated in shows all over the world and has had many one-man exhibitions, including the retrospective exhibition held at the Museum National d'art Modeme in Paris (1972), which was then shown at the Stedelijk Museum in Amsterdam, Stadtische Kunsthalle in Dusseldorf, and Tel Aviv Museum. Another large-scale retrospective exhibit was held at the Guggenheim Museum in New York (1980). He had a large one-man exhibition at the Museum ofPontoise (1975), the Palm Spring Desert Museum, California, on an occasion of the inauguration of the museum (1976), the Museum of Art Birmingham, Alabama (1976), the Museo de Arte Modemo, Mexico (1976), the National Museum of Art, Cape Town, South Africa (1977). The retrospective exhibition was held at the lsetan Museum in Tokyo, Daimaru Museum in Osaka and Kawasaki City Museum in Japan (1989), and at the Museo Nacional de Bellas Artes in Buenos Aires Argentina (1996). He also held an exhibition "Selected Suites" at the Jewish Museum, New York (1975). Agam has also had many one-man shows in art galleries since 1953, including Denise Rene Gallery, Paris (1956), MarIborough-Gerson Gallery, New York (1966), Gallery Denise Rene, New York (1971) and a series of one man exhibits all over the United States at the Circle Fine Art Galleries.
His visual education method and non-verbal educational system, meant to increase the creative and intellectual abilities of the children by the usage of visual alphabet as a mother tongue, is implemented in pre-schools and kindergartens in Israel. In 1996, Agam was awarded the Jan Amos Comenius Medal 1996 from the UNESCO "for having devised a particularly effective method of visual teaching for children."
Read More